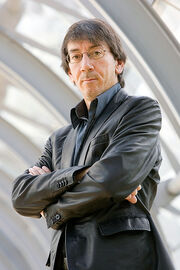 Will Wright is the leader of the software group, Maxis, and is the person who came up with the idea of the games, Spore and The Sims series.
Will Wright and his team of software designers have made a lot of very popular games, almost all simulation and having the name "Sim" in front of it.
The Stupid Fun Club
Edit
Will Wright has now created the Stupid Fun Club, that will pioneer in entertainment, technology, toys, media and gaming. Will Wright still works part-time at Maxis, and some of the team will also be moving to the new company. Will Wright has also hinted on three new projects. [1]
Raid on Bungeling Bay - 1984
SimCity - 1989
SimEarth - 1990
SimAnt - 1991
SimLife - 1992
SimFarm - 1993
SimCity 2000 - 1993
SimCopter - 1996
SimCity 3000 - 1999
The Sims - 2000
The Sims Online - 2002
SimCity 4 - 2003
The Sims 2 - 2004
Expansions and patches - 2000 to 2009
Spore - 2008
References
Edit