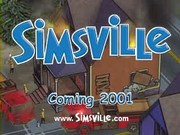 SimsVille was a cancelled computer game from Maxis that was to be a cross between The Sims and SimCity. It was announced before 2000, but cancelled in September 2001. The game was to offer the user control of a multitude of houses in a neighborhood in a fashion similar to The Sims. The cancellation came as Maxis decided to apply more of its staff to development of The Sims products. Many aspects of the game, such as a communal "downtown" area, were incorporated into the third expansion pack for The Sims, Hot Date. Also, several elements of Simsville, such as obtaining feedback from citizens, were used in Maxis's next city simulation game, SimCity 4, the fully 3D neighborhood view format was also used in The Sims 2.
The trailer can be seen on the SimCity 3000 Unlimited installation CD as well as The Sims: Livin' Large expansion pack.
Screenshots
Edit
Additional in-game screenshots of the game are available at Gamespot's preview of Simsville.
See also
Edit
Ad blocker interference detected!
Wikia is a free-to-use site that makes money from advertising. We have a modified experience for viewers using ad blockers

Wikia is not accessible if you've made further modifications. Remove the custom ad blocker rule(s) and the page will load as expected.