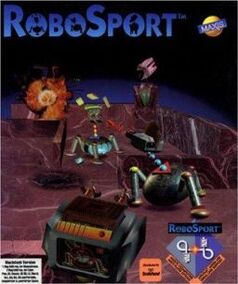 RoboSport
is a
1991
turn-based strategy
computer game
. It was created by Edward Kilham and
developed
and
published
by
Maxis Software
. The player creates teams of
robots
and maneuvers them around a board to map out one "turn" of movement. The other players and
AI
do the same and then all movement is played out simultaneously. The robots are equipped with different weapons, including
rifles
,
grenade launchers
, and so on. The game supports multiple modes such as
capture the flag
and a "hostage" game. It bears a superficial resemblance to the
Richard Garfield
tabletop game
RoboRally
.
Maxis developed this game for DOS, Macintosh and Windows 3.x. In 1992, it was released for the Amiga.
Ad blocker interference detected!
Wikia is a free-to-use site that makes money from advertising. We have a modified experience for viewers using ad blockers

Wikia is not accessible if you've made further modifications. Remove the custom ad blocker rule(s) and the page will load as expected.